UNFPA's mandate to deliver a world where every pregnancy is wanted, every childbirth is safe and every young person's potential is fulfilled, cannot be realised without the presence of peace. This is why, UNFPA The Gambia continues to accompany the government and people of The Gambia, to drive the peace agenda.
This is evident in UNFPA-led interventions seeking to address Gender-Based Violence and harmful practices, preventable maternal deaths and investing in young people in The Gambia and most recently, in leading the implementation of the UN Secretary General's Peacebuilding Fund's Project on Increasing Women and Youth Participation in Decision-Making and as Agents of Community Conflict Prevention.
On Monday 19 August 2019, UNFPA The Gambia received an award of recognition from the Working Group on Women, Youth, Peace and Security for West Africa and the Sahel (WGWYPS-WAS) Gambia Chapter, for the support the agency continues to extend to the Working Group, in the promotion and implementation of the United Nations Security Council Resolution 1325 (2000) and subsequent ones, on the involvement of women and youth in conflict prevention and peace building mechanisms.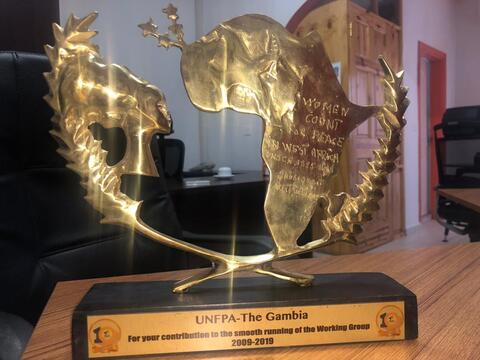 Speaking at the award ceremony, the Chairperson of the National Women's Council, Mrs. Dea Sawaneh, highlighted that, without peace, no development is possible. She went on to emphasise that, The Gambia is priviledged to have the support of UN agencies such as UNFPA, who have been a long-standing partner to the country.  
According to the Honourable Minister for Women, Children and Social Welfare, Mrs. Fatou Kinteh, wherever there is conflict, women and young people are the most vulnerable groups. However, she added, these two groups, play a key role in maintaining peace in our societies.
The honourable Minister concluded by commending the Working Group for recognising the efforts of development partners and encouraged that the private sector in The Gambia, is invited to be part of the group and engage in its peace promotion and peacebuilding efforts.