You are here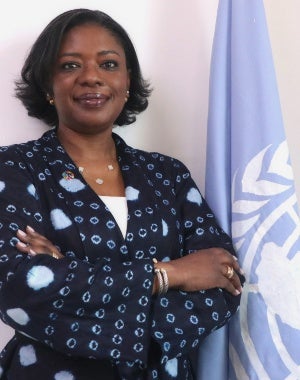 Ndeye Rose Sarr
Ms. Ndeye Rose Sarr is the UNFPA representative in The Gambia. Prior to this role, she served as the Regional Desk Specialist for the West and Central Africa Region, a position she held for seven years. In that position, Ms. Sarr provided leadership, policy advice and strategic partnerships building for the region and supported the Eastern and Southern Africa desk. She also contributed to the development of various Country Programmes, supported quality assurance, human resources alignments and capacity development of staff in country offices through the Programme Review Committee (PRC) and the Internal Consulting Group (ICG). She engaged with counterparts in other UN agencies and Member States at headquarters' level to ensure quality and coherence of programmes, strategic positioning, advocacy and policy dialogue, partnerships and visibility for UNFPA.
Before joining UNFPA, Ms. Sarr gathered extensive programme management experience from the nonprofit sector and through her previous roles at UN Women and UNDP. She has administered multiple grants for programs in Asia and Africa related to capacity building of civil society organisations, gender equality, violence against women, and women's health and reproductive rights.
Ms. Sarr has field and community development experience working in Senegal her home country with the World Bank, in South Africa for the Open Society Initiative in Southern Africa (OSISA) and the German Technical Cooperation.
She undertook advocacy for the ICPD Programme of Action and the Beijing Platform of Action through programming and policy dialogue for human rights and public-private partnerships. She was part of the team that developed UNDP Gender Equality Seal and co-led the development of UNFPA's Social and Environmental Standards for Programming.  
Ms. Sarr is an engaged employee in UNFPA for staff wellbeing and development. She co-leads the employee resource group known as women@unfpa and is currently the Vice Chairperson of the Paul Hoffman Fund dedicated to supporting staff in times of financial needs.
Ms. Sarr holds a Bachelor's Degree in Business Administration from the University of Quebec in Montreal, Canada and a Master of Arts Degree in International Relations from the Webster University in Saint Louis, Missouri. She is fluent in French and English and has a good command in Spanish.