Women's participation in leadership and decision making, is a prerequisite for socio-economic advancement. It is the bedrock for laying a strong foundation for a community where rights are protected and wellbeing is promoted for all, thus, creating the right atmosphere for the enjoyment of good health, including sexual and reproductive health.
On 2 July 2019, UNFPA The Gambia Representative, Kunle Adeniyi and the Honourable Minister for Women, Children and Social Welfare of The Gambia, Mrs Fatou Kinteh, presided over the opening of a three-day Women's Leadership Training.
Organised by the Women's Bureau and facilitated by UN Women Africa, the training is part of activities funded by the UN Peacebuilding Fund (UNPBF) through UNFPA The Gambia's Women & Youth project, aimed at promoting an increase in women and youth participation in decision-making and peacebuilding processes in The Gambia.  
According to the Hon. Minister for Women, Children and Social Welfare,
"women's leadership is synonymous to success and trying to attain development without women, is like climbing a greasy pole".
Women must therefore, be adequately represented in leadership, she reiterated.
Speaking at the ceremony, the UNFPA The Gambia Representative, highlighted that, we cannot expect national development, if half of the population is left behind. This he said, is why UNFPA is working to ensure women are not left behind and that their rights and well-being is prioritised.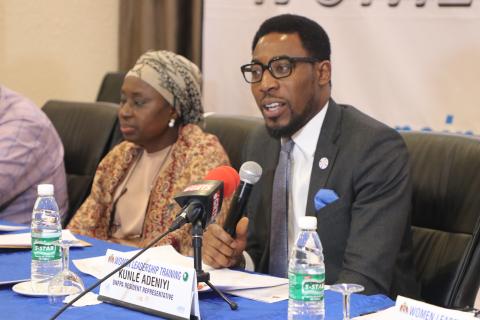 Bringing together 40 women leaders, the training will equip participants with the requisite skills to build their leadership capacities and ensure that their responsibility as women leaders to foster peace and contribute towards building resilient communities, is strengthened.
It should be noted that, there can be no peace without inclusion. Women, men, girls and boys alike, must all be part of the development process of any country, if the attainment of sustainable development is what such country anticipates.
Moreover, ensuring a world where every pregnancy is wanted, every childbirth is safe and every young person's potential is fulfilled, depends on the existence of peace, protection of the fundamental human rights of all persons and the promotion of good governance and leadership.