Obstetric Fistula affects the psychological and physical health of women and girls. It is a sensitive condition which relegates women to social exclusion and isolation, adverse discrimination, and low self-esteem. Globally, about two million women remain untreated in developing countries and between 50,000 and 100,000 new cases occur each year, a majority of whom live in Sub-Saharan Africa.
In The Gambia, despite the absence of nationally representative data on the prevalence of Fistula, prevalence estimations are drawn from proxy measures of Maternal and Perinatal Deaths/Mortality rates, fistula treatment data as well as contextual data. These estimations record a current prevalence rate of 0.46 to 2.05 per 1000 women. Based on this, the current national burden is estimated at between 335 to 1052 cases.
In commemoration of the International Day to End Obstetric Fistula, Her Excellency the First Lady of The Gambia, Madam Fatoumatta Bah-Barrow on 23rd May 2022 launched the Zero Fistula Gambia campaign. An initiative of UNFPA The Gambia and the Office of the First Lady in collaboration with the Ministry of Health and Ministry of Gender, Children & Social Welfare & other stakeholders, the campaign will raise public awareness on the condition and call for its eradication.
Speaking at the campaign launch, Her Excellency Madam Fatoumatta Bah-Barrow called on all stakeholders to affirm and strengthen the advocacy to achieve zero Fistula cases in The Gambia by 2030. She went further to highlight that, "The fight against Fistula is a fight for humanity."
According to UNFPA The Gambia Country Representative, Ms. Ndeye Rose Sar, "women and girls around the world suffering from Obstetric Fistula live devastating lives." She emphasised that ensuring they live dignified lives requires the commitment of all partners.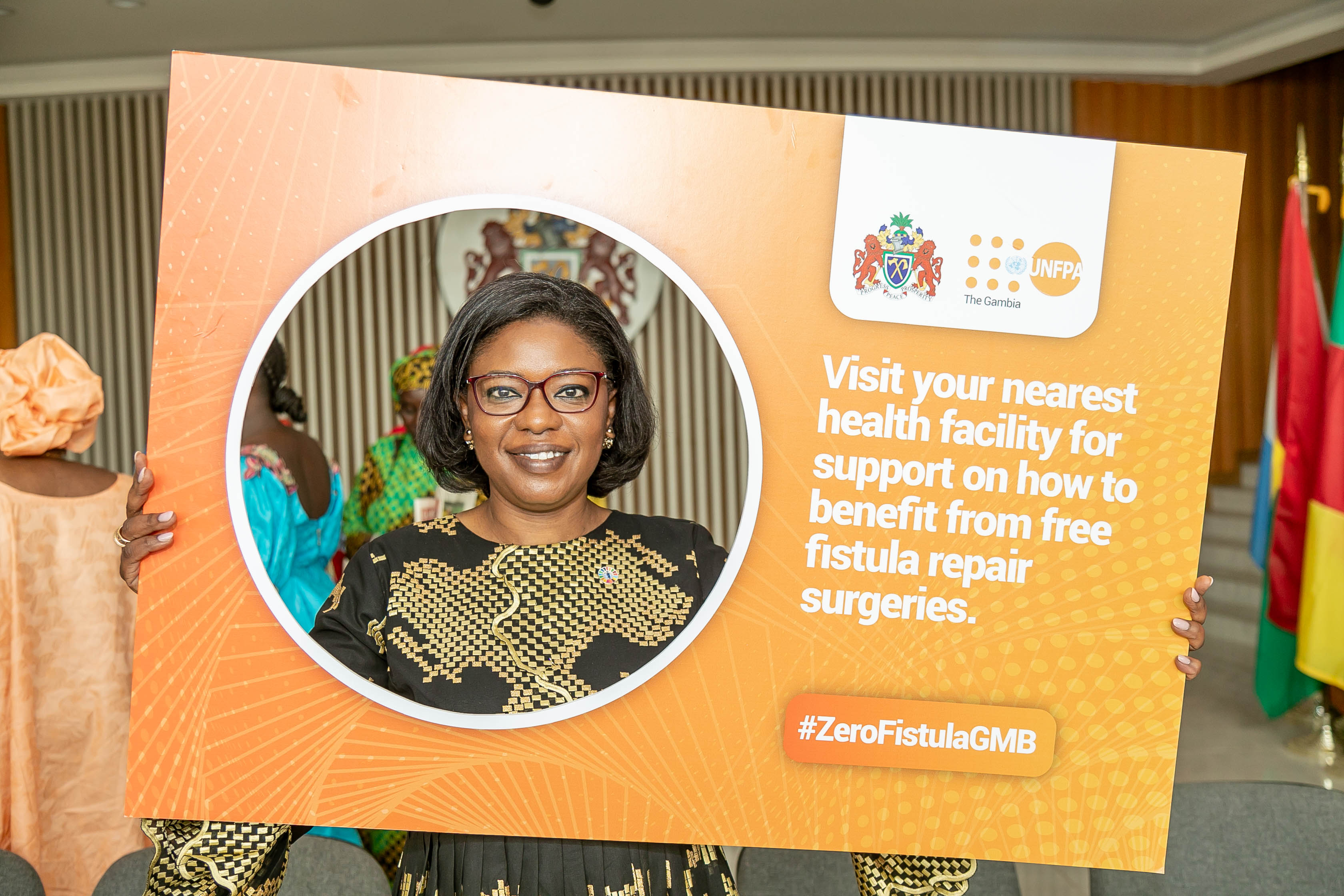 The Zero Fistula Gambia campaign is a month-long effort geared towards creating awareness about the condition and bringing hope to communities by making the availability of repair surgeries widely known. The campaign is part of a larger commitment by UNFPA to contribute towards the eradication of the condition in The Gambia by 2030, through investments to strengthen the health system in order to ensure availability of Comprehensive Emergency Obstetric Care Services across the country, and addressing the underlying causes of fistula including harmful practices such as Female Genital Mutilation and Child Marriage.
***
Media contact: Haddy Jonga – Programme Analyst, Communications jonga@unfpa.org