Lack of access to menstrual health and hygiene products such as sanitary pads is a major factor which keeps girls out of school, perpetuates menstruation related stigma and increases inequalities. In The Gambia like many other countries, menstruation and conversations around periods are recognised as taboos and associated with a lot of stigma. The lack of access to sanitary products is part of an array of challenges experienced by women particularly those in hard-to-reach communities, including their exposure to gender-related vulnerabilities exacerbated by climate change and climate-induced tensions.
Interestingly, in order to arrive at a sustainable solution to addressing limited access to sanitary pads, low income generation capacities of women as a result of climate induced conflicts especially around land ownership and ensuring that the environment is protected from the climate hazards associated with disposable menstrual pads, UNFPA with support from the UN Secretary General's Peacebuilding Fund, is co-implementing a project on 'Strengthening Community Coping Mechanisms to Mitigate Risks of Conflicts and Reduce Climate Related Tensions' with ITC and WFP. Through this project, the agency is supporting interventions which center women and girls in the climate change response while empowering them with skills and alternative sources of income generation, thereby promoting their wellbeing and growth.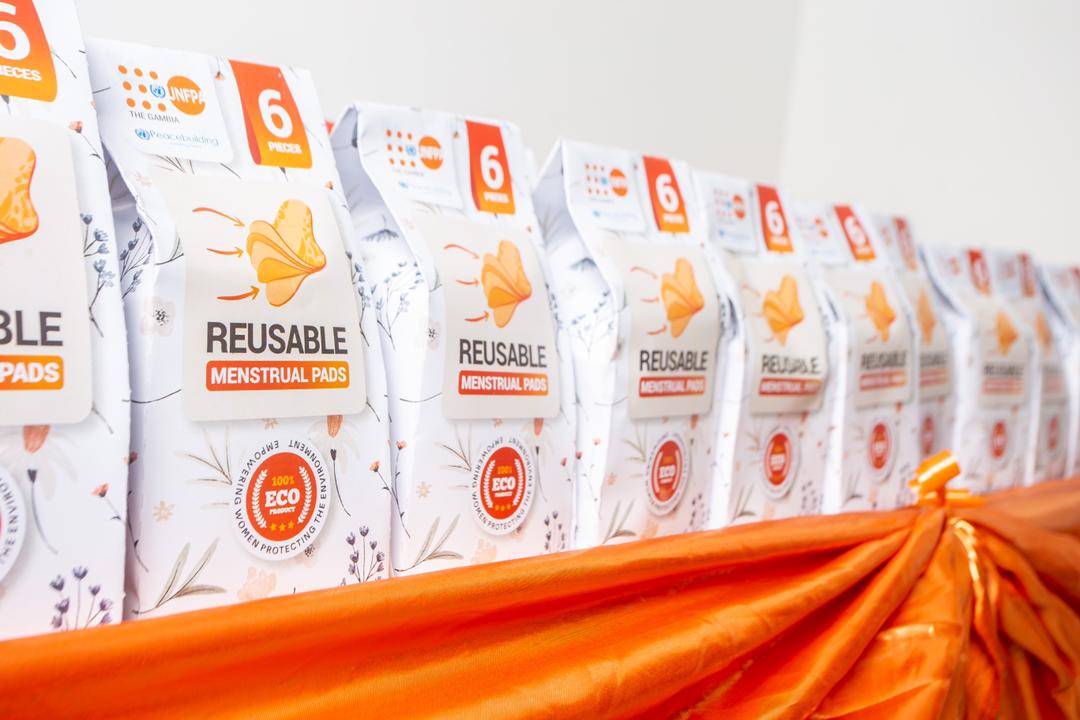 It is noteworthy that the utilisation of climate-friendly material in the production of reusable sanitary pads will reduce environmental hazards resulting from disposable sanitary pads, thus translating into positive climate indicators and contributing towards tackling global warming. This will also inform solutions to period poverty which fuels stigmatisation, low self-esteem and limited possibilities for girls to realise their fullest potential. Additionally, such solutions have the potential to bring communities together, protect women and girls from stigma and discrimination related to menstruation and address inequalities. Given that women farmers bear a significant brunt of climate-induced tensions due to their limited access to and control over land, the involvement of women farmers in the production of reusable menstrual products will provide them an alternative source of income thus addressing their vulnerability to climate-induced tensions which result from their sole reliance on farming.
On Friday 8 October 2021 as part of activities under the UN Peacebuilding climate change project, the UNFPA Country Representative was joined by Her Excellency the First Lady of The Gambia, the Honourable Minister of Gender, Children and Social and the Honourable Governor of the Upper River Region among other dignitaries, to inaugurate the Women Empowerment and Peacebuilding Initiative in Basse. Through this initiative, the agency supported the establishment of a reusable sanitary pad production center which provides innovative solutions geared towards promoting the use of climate-friendly products and diminishing dependency on natural resources through income diversification and climate-friendly solutions.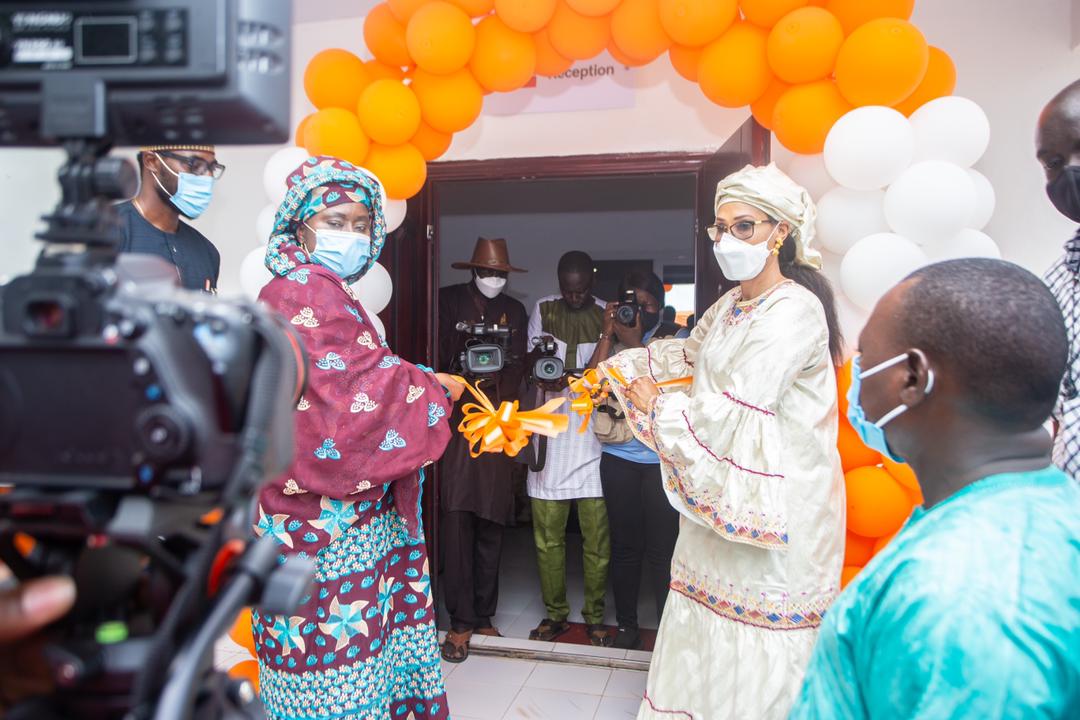 The inauguration of the production center also marked UNFPA's commemoration of the International Day of the Girl 2021. The theme for this year's commemoration 'Technology and innovation as accelerators of girl's bodily autonomy' is timely and apt as the agency and its partners continue to work towards positive aspects of digital technologies for girls including finding information, locating services, seeking opportunities, developing peer networks, achieving personal fulfillment, harnessing the potential for inclusion and tracking menstrual health and hygiene indicators.
Delivering a statement at the inauguration ceremony, Her Excellency the First Lady of The Gambia Madam fatoumatta Bah-Barrow highlighted that limited access to menstrual health and hygiene products and information are part of several challenges facing adolescent girls all over The Gambia, as it limits their access to equitable education opportunities and the chance to live in dignity.
On his part, the UNFPA Country Representative Mr. Kunle Adeniyi highlighted the importance of working with and for women and girls to identify issues affecting their wellbeing and devising strategies for addressing such challenges. The Women Empowerment and Peacebuilding Initiative is an example of such inclusion of communities and enhancing sustainability. He went on to add that, when girls have the power to make decisions over their bodies and their lives, we can achieve universal sexual and reproductive health and rights and gender equality.
"Utilising digital technologies and approaches can help to ensure the realisation of women and girls' bodily autonomy and ability to make informed choices." – Kunle Adeniyi, UNFPA The Gambia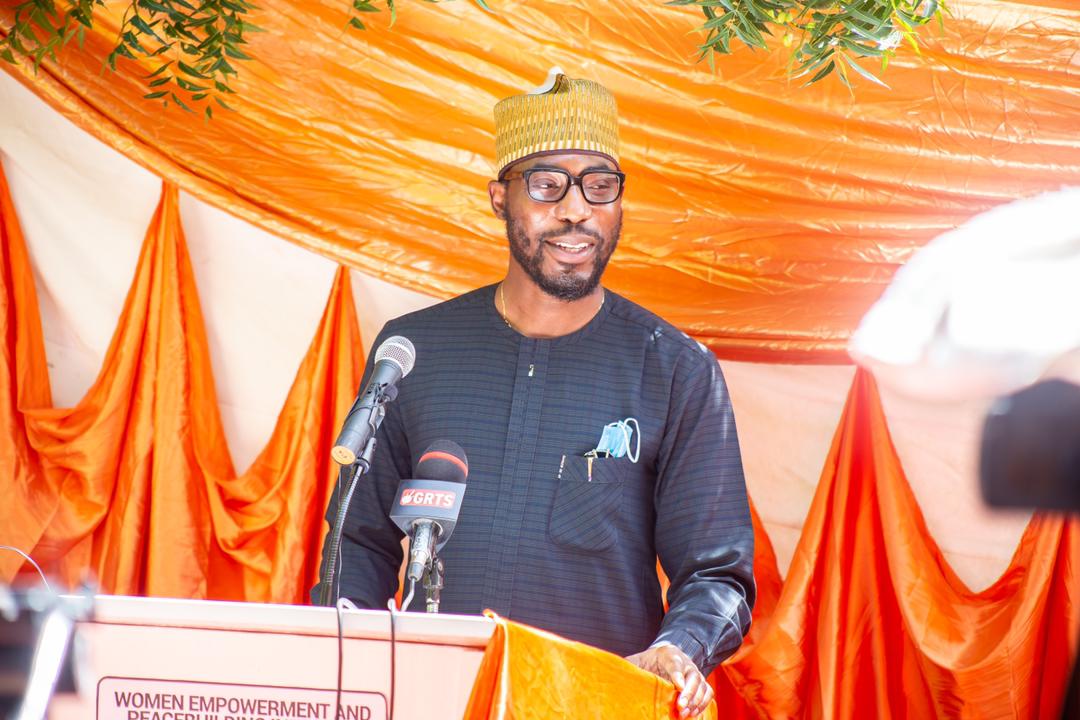 Mr. Adeniyi recognised the fruitful tripartite partnership between UNFPA, the Ministry of Gender, Children and Social Welfare and the Network against Gender-based Violence which resulted in the establishment of the pad production centre.
According to the Honourable Governor of the Upper River Region, Mr. Samba Bah, the initiative is a milestone in advancing development efforts in his region, being the first reusable sanitary pad production centre in The Gambia. "With the establishment of this centre, I am confident that menstruation related stigma and low school attendance rates for girls resulting from lack of access to menstrual products will be addressed" he added.
Salimatou Jawo of Samba Tako is one of 15 women currently undergoing training to lead production at the center. For her, benefitting from the training means contributing towards creating access to essential products to advance the health and hygiene of women and girls in her community and ensuring her personal economic empowerment as a mother.
"I have been able to send my son to school from the income I earn through my work at the center and I have acquired valuable skills in the production of reusable sanitary pads." – Salimatou Jawo
Women and girls know what if feels like to need and not be able to access to products for their health and hygiene. They know and understand what it means to live with sexual and reproductive health challenges resulting from the alternative material and methods of managing their periods in sometimes poor and unhygienic conditions. Adolescent girls know how it feels to miss 4 to 7 days of school while menstruating each month. Women know the implications of missing several days of work on the farm or trading in the markets while on their periods. Thus, through their training to produce and package reusable menstrual products, the women and girls of the Upper River Region have the answers to addressing these challenges and bringing hope and dignity to themselves, their daughters and the entire womenfolk of their communities. This is progress and this is what UNFPA commits itself to delivering for The Gambia.
Media contact:
Haddy Jonga – Programme Analyst, Communications jonga@unfpa.org