On 18 May 2020, UNFPA The Gambia supported the Ministry of Health with 100 dignity kits for individuals currently under quarantine, in order to ensure their wellbeing and safety. The items contained in the kits include soaps, towels, toilet rolls, tooth brush & paste, sanitary pads for the women, among others.
The support, which is in accordance with UNFPA's contributions to the National COVID-19 Response Plan was presented by the UNFPA Country Representative Mr Kunle Adeniyi to Dr Manjang, the head of the Badala Park Hotel quarantine team.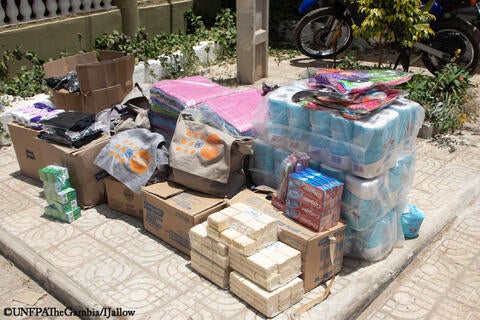 Upon receipt of the items, Dr Manjang expressed the Ministry's profound gratitude to the UNFPA and echoed the timely arrival of the items. In his words, "these items are exactly what we currently need in this facility. We are very grateful to the UNFPA team for making them available and accompanying the government and people of The Gambia is responding to the COVID-19 pandemic."
In addition to taking care of persons currently in quarantine, Dr Manjang noted that the centre has been very crucial during this time, with doctors coming in to check on patients and provide   treatment to individuals that come with other ailments including providing care for pregnant women.
Speaking at the presentation ceremony, the UNFPA Country Representative shared that "the purpose of the dignity kits is to ensure the dignity, safety and wellbeing of everyone leaving their families behind to come to this place." 
Mr Adeniyi expressed UNFPA's appreciation of the efforts of all frontline health workers and further emphasised his agency's commitment to support the government of The Gambia in containing the spread of COVID-19 and ensuring the country is on a journey towards recovery. 
Media contact:
Isatou Jallow - Communications Associate, UNFPA The Gambia ijallow@unfpa.org
Haddy Jonga - Programme Analyst - Communications, UNFPA The Gambia jonga@unfpa.org