On December 4 2018, the UN Gender Theme Group, led by UNFPA The Gambia, held a symposium on Sexual and Gender-Based Violence (SGBV) with specific focus on Sexual Harassment, at the Laico Atlantic Hotel, as part of activities marking the 16 Days of Activism against Gender-Based Violence (GBV). Attended by nearly a hundred and fifty participants drawn from various institutions, women's groups, government and civil society organisations, was chaired by UNFPA The Gambia's National Coordinator for GBV/FGM, Mrs. Fatou Kinteh. 
The opening ceremony of the symposium was graced by the UN Resident Coordinator in The Gambia, Ms. Seraphine Wakana, the Honourable Minister of Health and Social Welfare, Dr. Isatou Touray, Executive Director of the Women's Bureau under the Office of the Vice President, Mrs. Fanta Bai Secka, among other notable dignitaries.
In her opening statement, the UN Resident Coordinator stated that, SGBV cuts across all cultures and countries, which is why the UN is fully committed to creating safe spaces for all SGBV survivors. According to her, the UN has designed very clear policies to prevent SGBV in the workplace, including a 24/7 toll free call line in 250 languages, for victims to report crimes, screening of all employment applicants for any previous sexual violations, formulation of policies protecting victims who report against retaliation from perpetrators, etc. She expressed hope that the strides the UN has taken, will hopefully galvanize others to do same, in order to provide a safer and more comfortable environment for all, and added that the UN will continue to work with the government of The Gambia and partners, to reduce and prevent GBV against women and girls.
In her statement, Health Minister Touray also highlighted that, SGBV is an affront to the human dignity of women and girls, an assault on their health and an impediment to the well-being of their families, communities and countries. She went on to say that all voices are critically needed to continue to raise awareness on SGBV as it is a grave human rights violation which threatens the dignity and autonomy of victims, and that sustainable human development cannot be fully achieved as long as women and girls continue to suffer from such or live in fear of them. Furthermore, she encouraged all to consciously dispel gender stereotypes, as they also perpetuate these violations and how society responds to them. She concluded her statement by expressing hope that the momentum will be kept and that stakeholders will not be discouraged by patriarchal opposition in the fight against SGBV.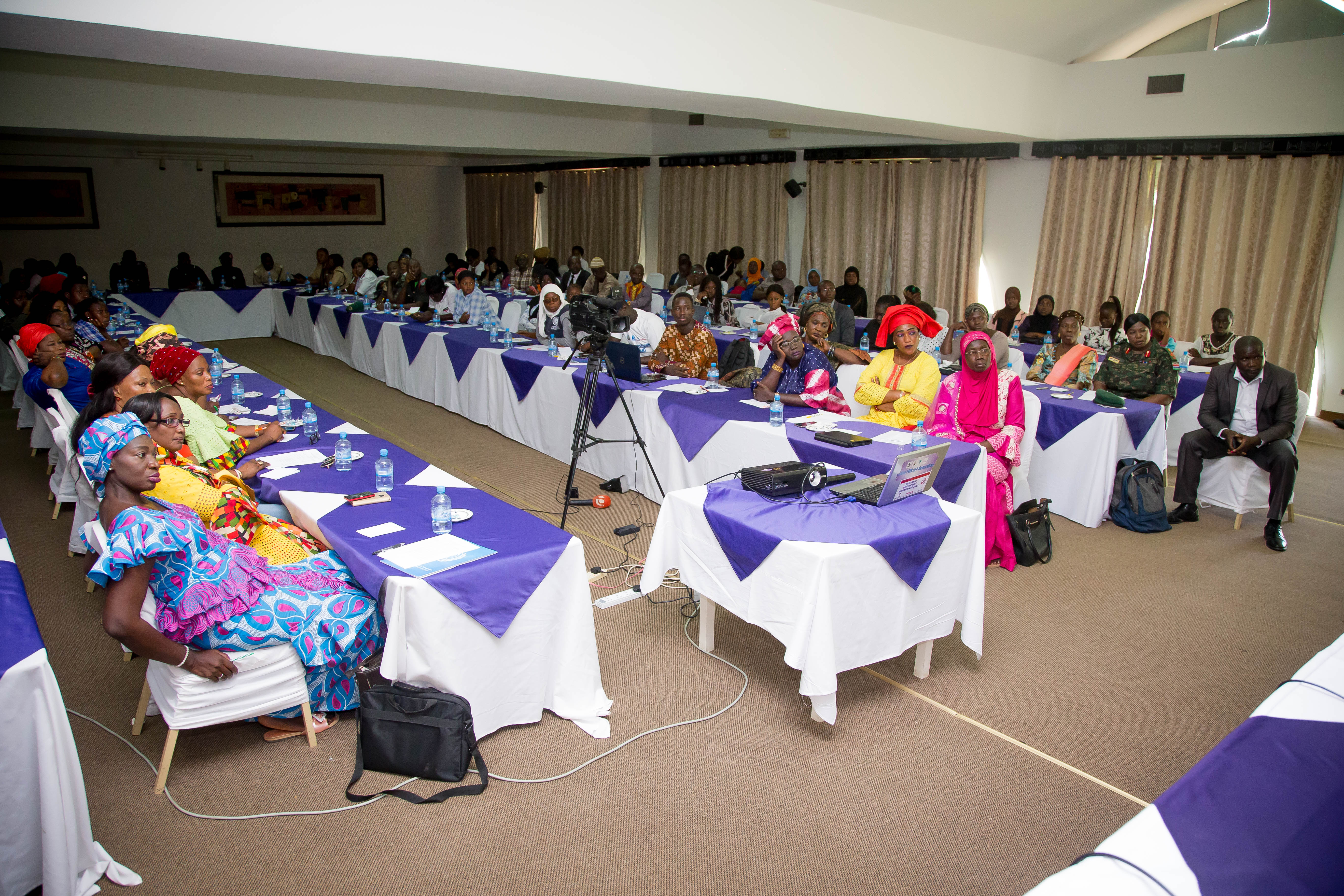 Following the opening ceremony, a panel discussion on Sexual Harassment took place. On the panel were, Mrs. Haddy Mboge-Barrow, Coordinator of the Network Against Gender-Based Violence (NGBV), a representative of the Ministry of Basic & Secondary Education (MoBSE), Executive Director of the Women's Bureau, Mrs. Fanta Bai Secka, and Hon. Ndey Yassin Secka-Sallah, Nominated National Assembly member & Chairperson of the Gambia Organisation for the Visually Impaired (GOVI).
Speaking on the general overview of SGBV in the Gambia, Mrs. Haddy Mboge-Barrow shed some light on efforts made by the Network against Gender-Based Violence to cater to victims of SGBV, particularly the creation of the One Stop Centre; a comprehensive medical centre for GBV victims equipped with all physical, mental, psychosocial and emotional services, survivors may need while also ensuring the principles of privacy and confidentiality are respected at all times. She emphasized that, measures put in place by the centre will help make patients more forthcoming with information, and highlighted some effects of SGBV including economic challenges, reduced productivity, stigmatization, unsafe abortions, baby dumping and other health consequences such as Sexually Transmitted Infections and Obstetric Fistula. According to her, factors such as victim blaming, beliefs that normalise physical violence, pressure from family members to remain quiet and maintain family honour, settling SGBV cases with the marrying off of victims, slow/inadequate investigations, inadequate collection of forensic evidence to prosecute perpetrators and loss of evidence from prolonged court proceedings, all contribute to the culture of silence in The Gambia and dissuades victims from reporting perpetrators to the authorities.
The representative of the Education Ministry underscored a number of ways sexual harassment occurs in educational settings, and how the submission to, or rejection of unwanted sexual advances could have detrimental effects on the victims. She also highlighted some challenges to the fight against SGBV encountered in the educational setting, including stigmatization, attitudes of authorities, cultural norms & values that promote silence and sexual harassment, lack of strict measures to prevent, monitor and manage abuse, etc. However, she was quick to highlight measures that MoBSE has put in place to overcome these challenges, such as setting up the Gender Educational Unit to co-ordinate and monitor all gender issues affecting children, setting up of Mothers' Clubs to work with both the community and schools to sensitise parents and the community on the effects of sexual harassment on children, and continuous sensitization of children, parents, teachers and school authorities, to enable students to speak up and to know who to report cases of sexual harassment to.
In her presentation, the Executive Director of the Women's Bureau, Mrs Fanta Bai Secka, pointed out that, although the home is the basic unit of society that builds and develops the community and the nation, it is challenged by the poverty of women, unequal power relations, the culture of silence and the position of trust held by men who are supposed to be the heads of the household. She questioned the values and beliefs held in homes and whether they help in the development of the nation, and the roles each one of us plays in ensuring that every member of the home is safe, protected and cared for. She stressed that, our communities are not safe for the women and children of the Gambia, adding that the prioritisation of family honour over the safety and comfort of women and girls, poses a great challenge to fighting SGBV in the homes.
Hon. Ndey Secka-Sallah, presenting on sexual harassment against persons with disabilities, expressed the grievances of people living with disabilities also vulnerable to sexual harassment, and are often victims of those appointed to care for them. She pointed out that, it is much harder for differently abled victims of sexual harassment to speak up because they are usually shunned by society due to their disabilities, which further entrenches the culture of silence. She urged all to pay more attention to women and girls living with disabilities as they are often overlooked in efforts to combat SGBV. She expressed the need for women and girls living with disabilities to the accorded the respect and dignity to them.  
Following the presentations from the various panellists, the floor was open for discussion. This gave participants an opportunity to provide suggestions to further the cause against SGBV, including equipping security personnel with the tools needed for adequate evidence collection to facilitate prosecution of perpetrators, charging and imprisoning perpetrators to deter others, encouraging and empowering SGBV survivors in our homes and communities to speak up, empowering activists to reach out to the most remote of communities to sensitize and educate the people on SBGV, and training security personnel and hospital staff to be more sensitive to, and supportive of victims, so that they do not remain silent.         

For more information, contact:
Haddy Jonga
Programme Analyst, Communication
UNFPA The Gambia
Tel: +220 3303073
Email: jonga@unfpa.org