It goes without saying that the entire UNFPA The Gambia team is excited to welcome the creation of the first Women's Affairs, Children and Social Welfare Ministry of The Republic of The Gambia and even more so that UNFPA The Gambia's National Coordinator for Gender Based Violence (GBV) and Female Genital Mutilation (FGM), Mrs. Fatou Sanyang Kinteh, has been appointed the first Minister.
Fatou who has been with the Country Office for the past nine (9) years, has a wealth of experience working with the United Nations System in The Gambia, Government and Civil Society Organisations, where she has always promoted the gender agenda. She has previously served as the Deputy Executive Director and Executive Director of the Women's Bureau as well as the health of Information, Education and Communication at the Gambia Family Planning Association, among many other notable capacities.  During her time as Executive Director of the Women's Bureau, Fatou led the development and implementation of the first gender component of the UNFPA Country Programme in The Gambia.
The receipt of her appointment came as a further manifested of her vested interest in ensuring that issues of women are prioritised at the highest level possible.
To bid her farewell and formally send her off to her knew office, on Friday 1st March, the UNFPA The Gambia team put together a congratulatory ceremony to express their pride in Fatou's Appointment and to shower her with best wishes for her new journey.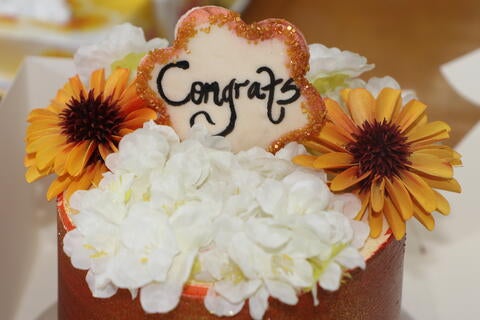 The ceremony was graced by the UN Resident Coordinator in The Gambia, heads of UN agencies, members of the UN Gender Theme Group and other staff. It was a beautiful display of memories of Fatou's hard work and dedication to everything related to gender in the UN and among its partners.
Speaking on behalf of the UN Country Team, the UN Resident Coordinator expressed delight in the news of her appointment and implored on her to continue the good fight for women and children of The Gambia, since she understands the issues hindering their growth and wellbeing.
To conclude, the UNFPA Representative, Mr. Kunle Adeniyi, spoke at length on Fatou's ever willingness to look at all programmatic issues through a gender lens and contribute towards the realisation of the agency's mission through various interventions.
A mother to all, a great friend, an ardent advocate for the advancement of Gambian women and an astute programmer, Fatou has always been a voice for Gambian women. She will be assuming greater responsibilities for her country and we will miss her presence at the Country Office. We however look forward to working with her good office as we continue to advance the cause of the people of The Gambia.