In order to ensure that the unmet need for family planning, preventable maternal deaths and harmful practices such as Female Genital Mutilation (FGM) and Child Marriages end in The Gambia, a peaceful society where every individual's voice matters, where men and women enjoy equal opportunities and where leadership and decision-making processes are open to all people, is created.
As such, as part of our UN Secretary General's Peacebuilding Fund project aimed at Increasing Women & Youth Participation in Decision Making & as Agents of Community Conflict Prevention, the West Africa Network for Peacebuilding (WANEP) The Gambia, with support from UNFPA, organised a 2-day Training of Women in Leadership & Peacebuilding, targeting about 50  women politicians and potential female political candidates identified through their parties as well as through independent calls from the Upper River Region (URR), West Coast Region (WCR) and Greater Banjul (GBA) of The Gambia, from the 29 to 30 May 2019. The training, sought to enhance their leadership capacities and engage their political potential, thus paving the way for more women to vie for political/leadership positions at community, regional and national levels.
During the official opening ceremony, the Honourable Minister for Women's Affairs, Children and Social Welfare, Mrs. Fatou Kinteh, highlighted that, "this project women and youth project will catalyze the power of women to impact change in our communities & ensure their voices are heard because they have the ability to bring peace where it is absent." According to her, "the enjoyment of all rights, including the right to sexual and reproductive health, can only be protected and fulfilled, where an atmosphere of peaceful co-existence and inclusive decision-making is present."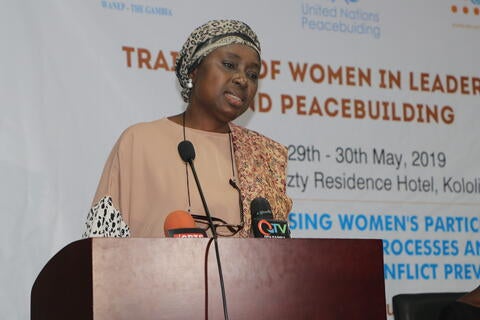 On his part the UNFPA The Gambia Representative, Mr. Kunle Adeniyi, stressed that, "every woman has a voice and that voice is critical. This UN Peacebuilding funded project, seeks to promote increased participation of Gambian women in peacebuilding because Gender Equality is a pathway to peace."
The National Network Coordinator of WANEP The Gambia, Salama Njie, used the opportunity to highlight that, "women are under-represented in all spheres of development and WANEP is pleased to receive the support of UNFPA through the Peacebuilding Fund project on Women and Youth, to work towards addressing this issue."
On day two of the training, the UN Peacebuilding Donor Mission currently in visiting the country, joined the training to observe proceedings, hear from the women and understand the potential impact of the training on the beneficiaries, moving forward.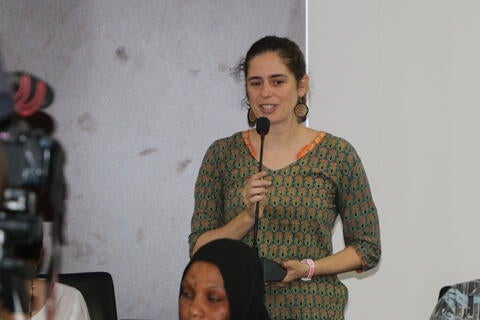 Among the testimonies and words of encouragement to the other participants of the training, were the those of Honourable Ndey Secka, nominated National Assembly Member. Hon. Secka emphasised that, "It is not going to be easy. There will be obstacles. However, women's voices can build & sustain peaceful societies where all individuals are adequately represented." She thus reiterated that, women must be present in leadership at all levels to make this happen.
Following the completion of the training, the women trained will be paired with mentors who will support them throughout the duration of the project. It is expected that this will lead to:
Increased women participation in peacebuilding for social cohesion as they are key figures in society

Improveme

nt on women participation in decision-making, ranging from national to regional and community levels that will promote peace, inclusiveness and national ownership

Increased number of female aspirants for the 2021 – 2023 electoral cycle