Ensuring the active participation and contributions of young people in the National COVID-19 Response, is vital in tackling rumours and misinformation, and promoting community engagement. Another way they can be involved in the response is through community contact tracing and surveillance. This is because, when youth are equipped with the skills to lead these efforts in their various communities, they are able to build a relationship of trust with their own people, get the right information they need and seek the support their communities need from service providers in order to tackle the spread of the virus. This will also help them to mitigate the impact of the pandemic on lives and livelihoods.
It is against this backdrop that a partnership between UNFPA and the Ministry of Health on 22 September 2020, launched a community contact tracing and surveillance initiative to be piloted in the Central River and Upper River Regions of The Gambia. This initiative which is being run by nearly 100 youth volunteers mobilised by the National Youth Council and the Gambia Red Cross Society across the two regions, is supported under the UN Peacebuilding-supported project on Strengthening sustainable and holistic reintegration of returnees in The Gambia. According to IOM data, about 35,000 Gambians arrived in Europe via irregular means between 2014 and 2018. What must be noted however, is that a majority of these migrants are young people in search of a better life and opportunities to thrive.
As a result, the community contact tracing and surveillance initiative will provide young people with an opportunity to be part of efforts to drive positive change their communities, encourage them to participate in community development activities, keep them engaged and instil in them a sense of responsibility to lead their communities through the pandemic. These by extension, will discourage any forms of irregular migration and youth-driven conflict at community level.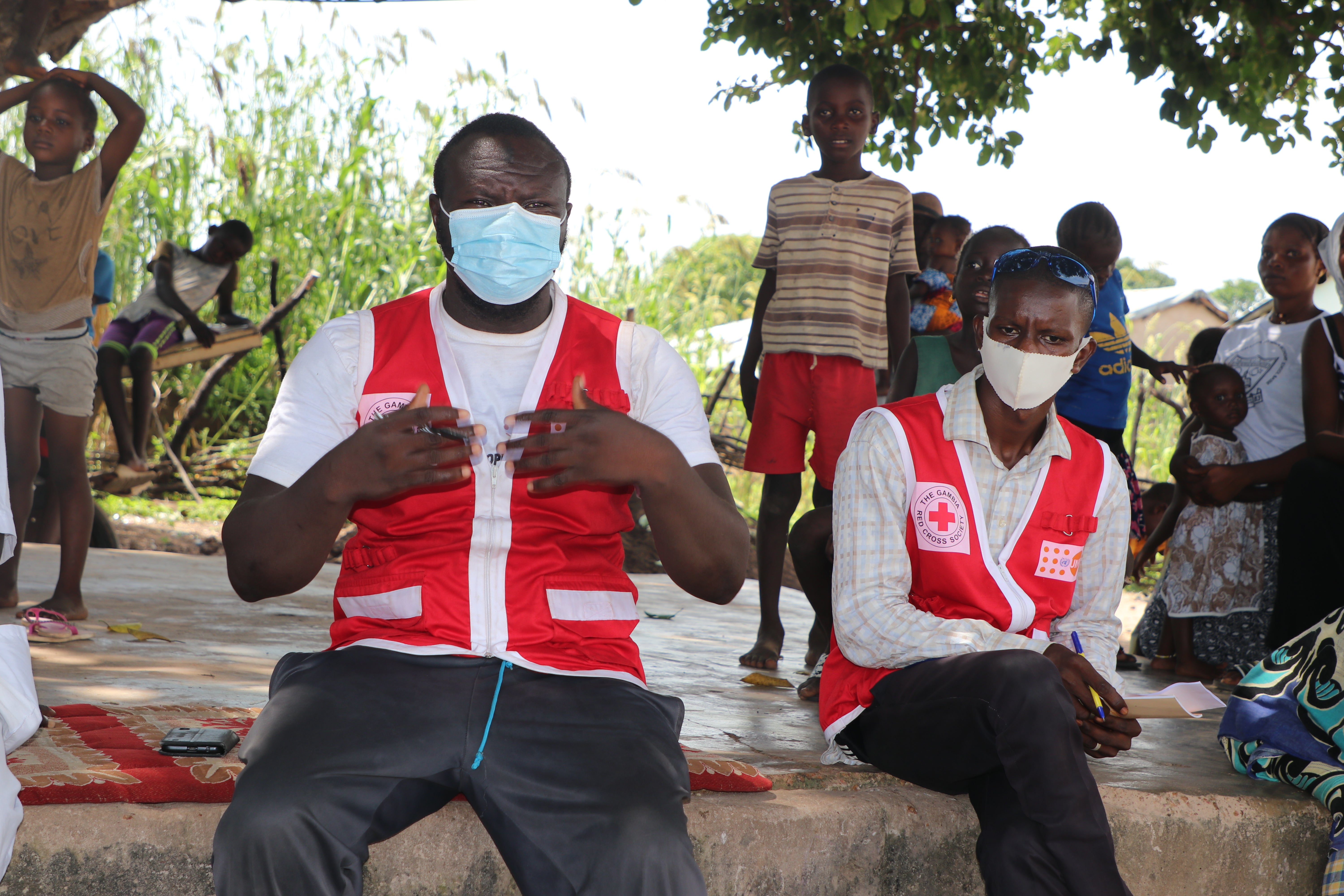 Interestingly, the volunteers in their engagements with community members are not only seeking information and reporting signals on COVID-19, but they are also discovering and reporting signals on other health and safety concerns in their communities to the health authorities for appropriate action. In Badari Village, located about 8 kilometres from Basse in the Upper River Region of The Gambia, Red Cross Volunteers working on the pilot are using risk communication to enhance their community's understanding of COVID-19 and promoting respiratory hygiene.
In an encounter between UNFPA personnel and the community members on 15 October 2020, the Alkalo of the village Muhammadou Manneh expressed his community's appreciation of the work of the volunteers, sighting that,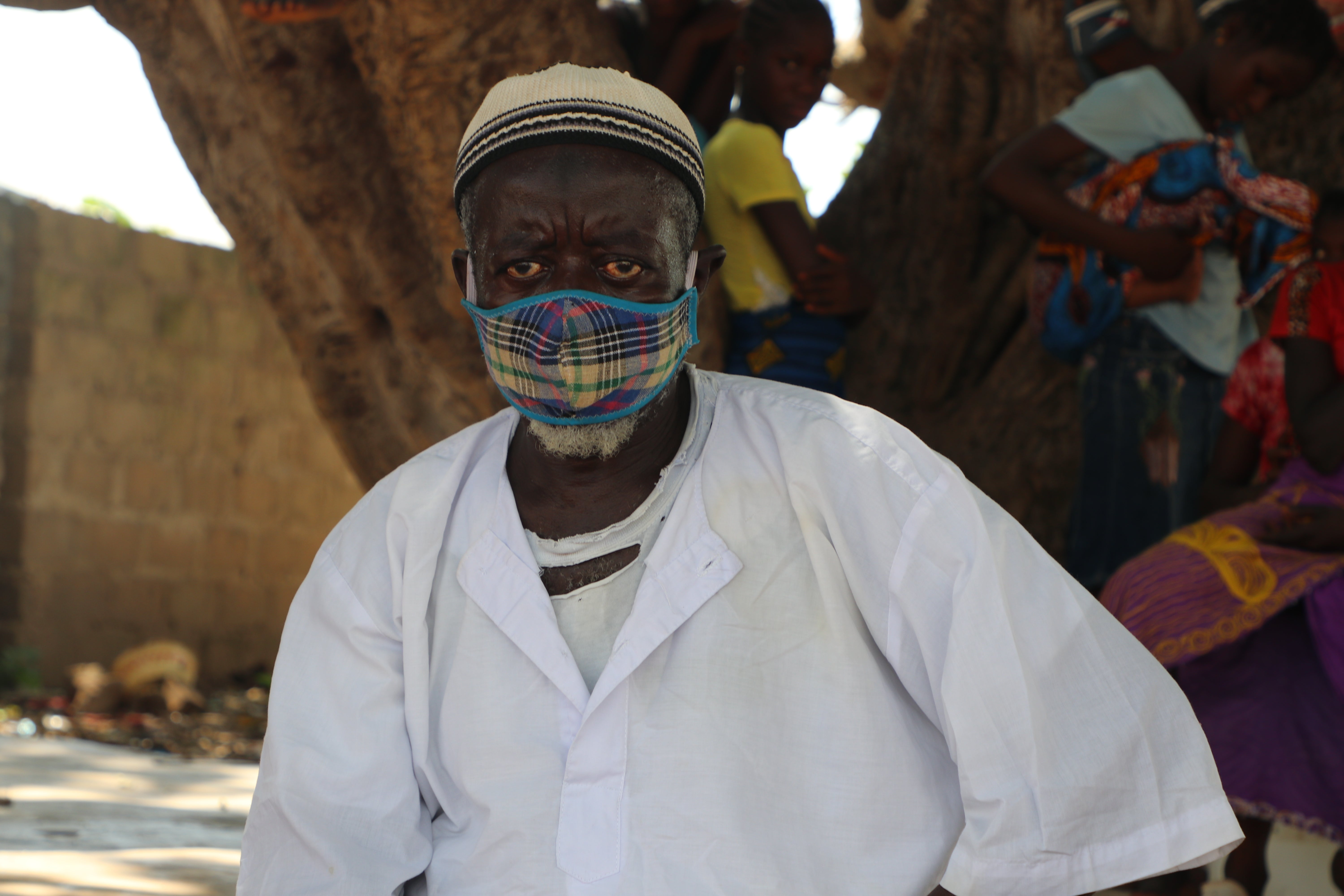 'because of the discussions the volunteers continuously have with us, we now encourage all community members to wear facemasks, consistently wash their hands and we have put a stop to all mass gatherings. This will help us keep our community free from the virus.'
While they share general COVID-19 precautionary measures, the youth volunteers are also sharing information on how pregnant and breastfeeding women can keep safe and healthy during the pandemic. According to Fatoumatta Manneh, Traditional Birth Companion of the village, with the information received from the youth volunteers, she is able to encourage pregnant women and new mothers to continue their regular health visits, in order to ensure that their health and that of their babies'/unborn children is guaranteed during the pandemic.
'I make sure that all women that are due for delivery, go to the health facilities on time in order to avoid complications and that pregnant women do not miss their antenatal visits'
said Fatoumatta.
Multi-prong initiative such as this youth community surveillance and contact tracing pilot project, are part of UNFPA's support to the National COVID-19 Response and are vital in ensuring that the communities we serve, particularly youth, women and adolescent girls, are not left behind during the COVID-19 pandemic.
It is expected that following the completion of the pilot face, the youth community surveillance and contact tracing initiative will be replicated in other regions of the country, thereby promoting nationwide youth involvement in COVID-19 Response and Recovery efforts.
Media Contact
Haddy Jonga – Programme Analyst Communications, UNFPA The Gambia jonga@unfpa.org