"Be a man!" "Big boys do not cry!" "Stop acting like a girl!"
These statements that come out seemingly light, uttered to young boys and men to depict strength and manhood, has gravely affected men and how they relate to the opposite sex. In many Gambian communities, boys from an early age, are taught to be tough, to own power and treat women as their inferiors. This is manifested in their day to day engagements with their female counterparts, and has created a breeding ground for structural violence in the forms of domestic violence, sexual harassment and assault, physical and psychological abuse. Even though more conversations are being steered in communities, schools and others institutions about the need to eradicate Gender-Based Violence (GBV), and some cases are now being reported, there is the need for more work with young men and boys in communities, to ensure that they become a part of the solution to GBV and to ensure that women and girls, access equal opportunities, are treated with respect and dignity and are accorded their fundamental human rights.
It should be noted that, acts of violence, including GBV, often emanate from people that are supposed to be the protectors of women, spaces where they are meant to find peace and within the comforts of their safety, it is only fair and timely, that the attention of men especially young boys, is drawn to these acts of violence, how they affect women and importance of the peaceful co-existence of the genders.
Acknowledging the roles and contributions of men to the movement and transformation of social norms to attain gender equality, UNFPA The Gambia supported The Girls' Agenda through the National Youth Council, to engage young men and boys in campaigns meant to address GBV in general and Female Genital Mutilation (FGM) in particular. Held from the 6 to 7 September 2019, this activity brought together 200 participants from several communities within the West Coast Region and several organisations including the Gambia Scouts Society and the Gambia Red Cross Society.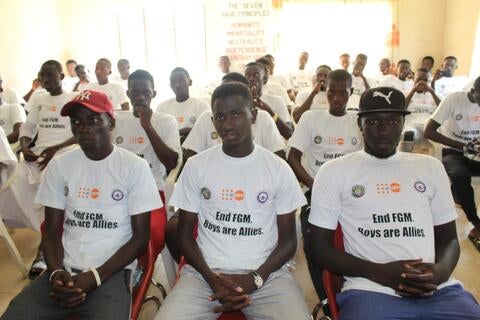 During the engagements, the young men were introduced to the types, effects and more so statistics on GBV, providing them with an analysis of the current situation in the country and why we need to act and act now, to end this menace. They were also introduced to the domestic legal frameworks and capacitated on how to make their voices count in the End-FGM movement.
"We did not only train but connected and inspired our participants to take action against FGM and serve as champions for gender equality and women's empowerment".
These were the words of Oumie Sissokho Kinteh, Partnerships and Networking Manager of The Girls' Agenda, reflecting on the activity.
Change is slowly taking place and with every day that goes by and through every engagement, we are a person, community and a nation closer to meeting the zero gender-based violence and harmful traditional practices agenda. It goes beyond these spaces and just 200 young men and boys, but this is the start to lasting change and sustainable development.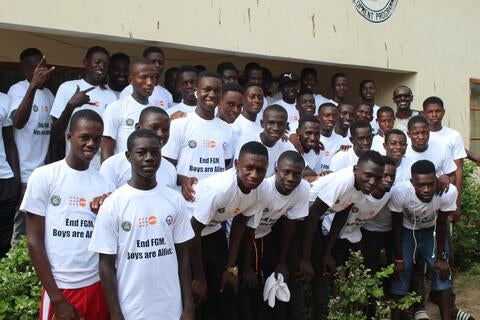 UNFPA remains committed to delivering a world where there is zero gender-based violence and harmful practices.