Inadequate access to menstrual health and hygiene products keeps girls out of school and widens the inequality gap. However, for persons with disability, the inequalities are further widened by entrenched socio-cultural and economic realities that perpetuate their discrimination and non-inclusion in development endeavours.
Isatou Ceesay, Mariama Jobe and Fatoumatta Keita, are students at the St. John's School for the Deaf. Their experiences although varied, highlight the need to promote the normalisation of menstruation in order to tackle period shaming and invest in increasing access to pads for girls and women everywhere especially for persons with disabilities who are often left behind. These experiences also shed light on the need to intensify awareness raising around menstrual health and hygiene management.
For Isatou, 21 despite the continuous period shaming she experiences from her peers, she has a strong belief that periods are normal. "I am not shy. My peers always try to make fun of me. The boys usually laugh at me, but it does not bother me" she said. The only challenge for her is that disposable sanitary pads are expenses and bad for the environment.
Unlike Isatou's resilience and strong determination to beat the odds around menstruation related social-stigma, Mariama, 17 and Fatoumattta, 19 used to find themselves in the middle of period-fueled stigmatisation among their peers and family members. They were challenged with accessing pads due to the high cost of disposable sanitary pads. Whenever it was that time of the month for the two girls, they each excused themselves from the classroom to avoid stains on their uniforms.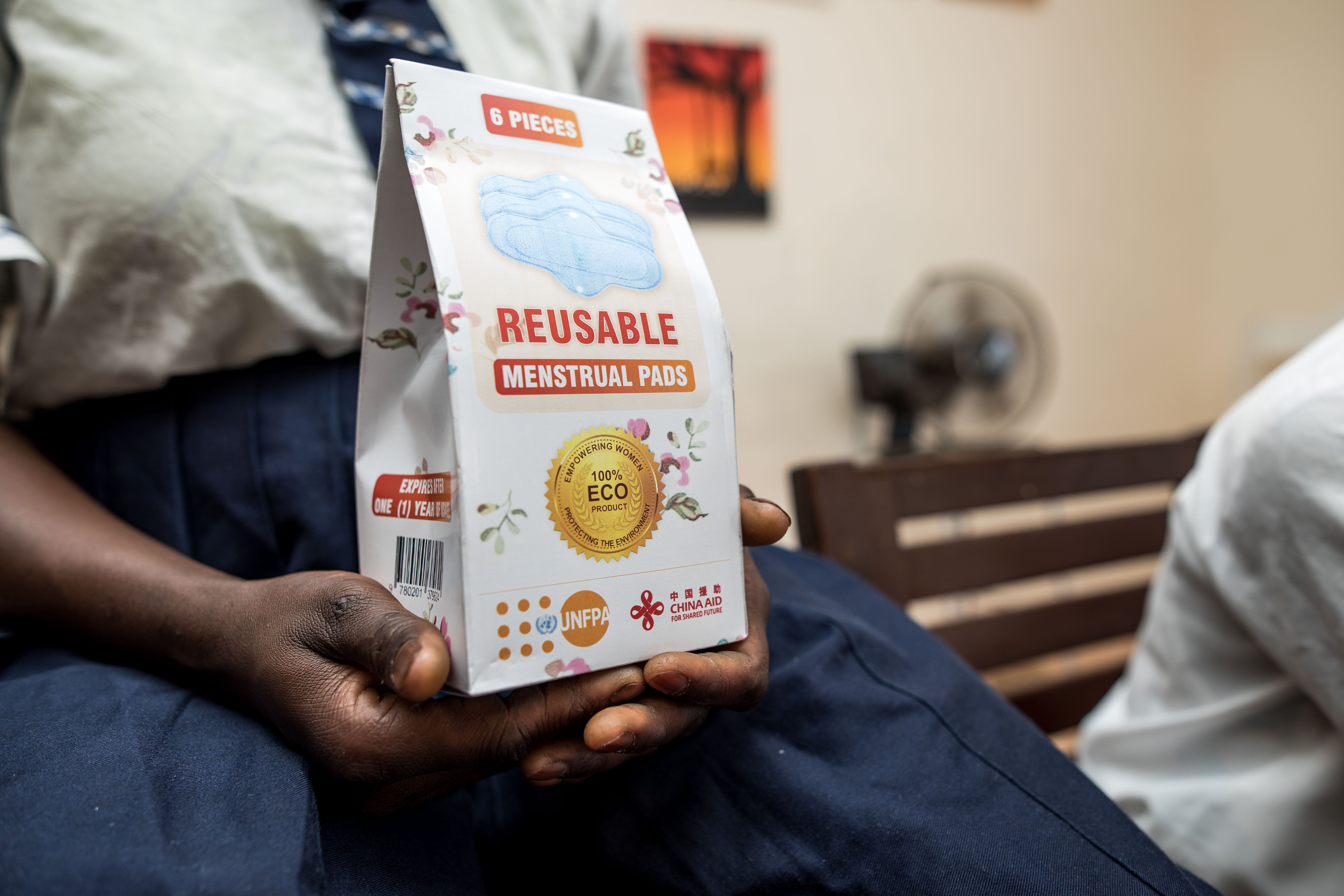 However, with funding from ChinaAid through UNFPA, Mariama, Fatoumatta and hundreds of adolescent girls in The Gambia now have access to reusable sanitary pads. They no longer have to miss out on lessons at school due to the unavailability of sanitary pads to them. "The pads are very good and have enabled us to stay in school while on our periods. We no longer feel uncomfortable due to fears of soiling our uniforms" they shared. Through the ChinaAid funded project, sanitary pads manufactured at the UNFPA-supported reusable sanitary pad production centre are being distributed among adolescent girls in various parts of the country.
Interestingly, Mariama and Fatoumatta's stories are not isolated. Their former realities are similar to those of many girls around the world today. The three girls having benefitted for the reusable menstrual pads are now calling for inclusive mechanisms that will guarantee adequate access to menstrual health and hygiene management products and information to meet the peculiar needs of persons with disabilities and other key populations.
UNFPA is working with the Government of The Gambia and other partners, to increase access to menstrual health and hygiene management products and information for girls and women all over The Gambia. The agency is also supporting community engagement interventions to eradicate period shaming and make menstruation normal everywhere in the country. Ending period poverty stigma is possible.
***
Media contact: Haddy Jonga – Programme Analyst, Communications jonga@unfpa.org