In order to guarantee and maintain Sexual and Reproductive Health (SRH) for all, access to accurate information and safe SRH services including modern contraceptive methods is required. These however can be hindered by numerous barriers due to socio-cultural and religious factors.
In The Gambia, opinion leaders form a critical barrier in the realisation of SRH in communities. As such, engaging them to further their understanding and clarify common misconceptions they have around these issues is key in ensuring that everyone, everywhere is assured access to safe and accurate SRH information and services.
As part of the quest to ensure SRH for all in The Gambia, UNFPA and partners embarked on a 12-day 'I am for Zero' campaign, which seeks to advance the realisation of the agency's three transformative results. Part of the campaign strategies included the engagement of opinion leaders in advocacy discussions around the promotion of SRH in their communities and to call for increased male involvement in addressing Gender-Based Violence (GBV).
On Sunday 20 June 2021, UNFPA Country Representative Mr. Kunle Adeniyi engaged the Governor of the North Bank Region, Chiefs, Alkalolu and women leaders in the region on ways to champion efforts to realise a GBV-free region and ensure unlimited access to SRH information and services, while increasing male involvement. Speaking to the gathering, Mr. Adeniyi recognised the critical role opinion leaders can play in advancing the realisation of UNFPA's transformative results and ensuring the safety, health and dignity of women, girls and young people of The Gambia.
"As leaders in the homes and community, you can each do something to ensure that girls go to and remain in school, that women deliver safely at health facilities and that everyone everywhere lives a life free of Gender-Based Violence." – Kunle Adeniyi, UNFPA Country Representative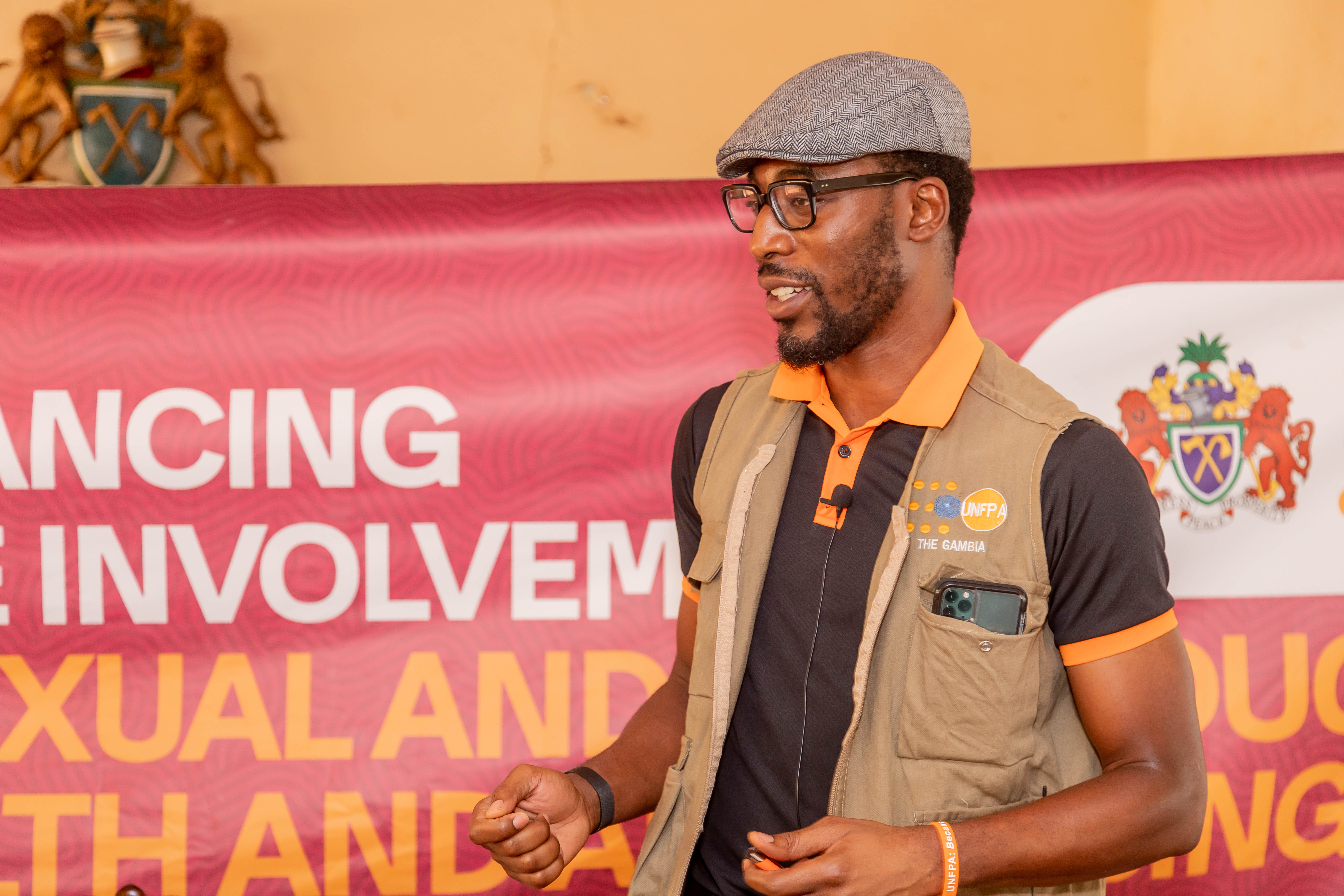 Speaking at the session held at the Governor's Bantaba in Kerewan, the Honourable Governor of the North Bank Region, Mr. Lamin Saidykhan highlighted the need for men to support efforts geared towards eradicating GBV. He emphasised the vital role men can play in enhancing the health of their families by being more involved and present to support their spouses in accessing SRH services including Family Planning and receive antenatal and postnatal care as well as during delivery. He called on all opinion leaders to sensitise their communities on SRH, the need to end GBV and protect women and girls from harmful practices.
"We must join hands to intensify sensitisation efforts to eradicate violence against women and girls in our region and The Gambia in general. This is one of the ways in which we can guarantee good health and wellbeing including SRH for all." – Governor Lamin Saidykhan, NBR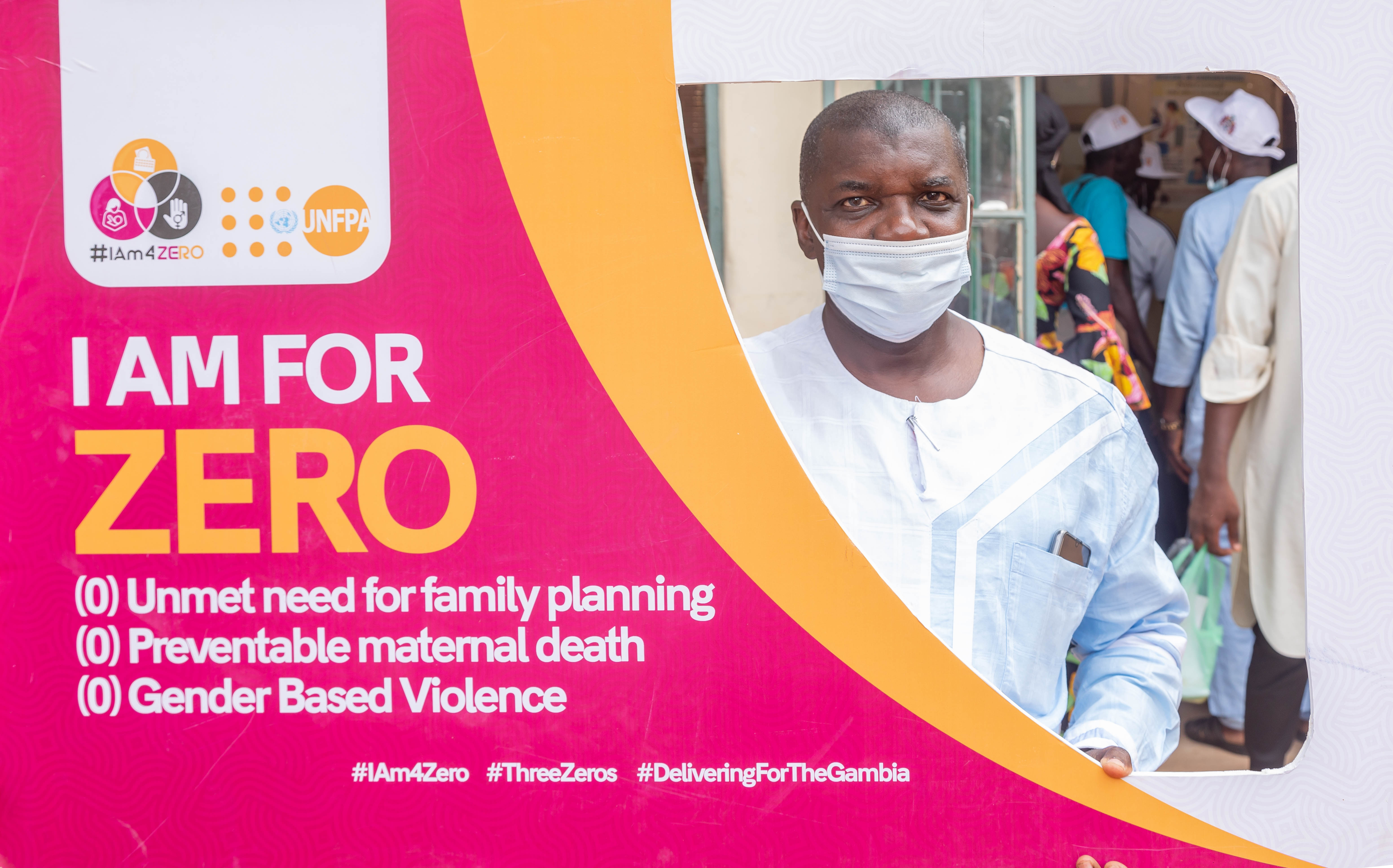 According to Aji Gas Lowe, Lady Councilor for Jokadu and Regional Focal Person for the National Women's Council, women in her community are faced with numerous difficulties as a result of limited or no dialogue with their spouses to decide on the uptake of Family Planning services. This she said, is hindering their desire to practice birth spacing and is negatively affecting their health, wellbeing and autonomy.
Abdoukarim Jallow, Senior Programme Officer at the Reproductive, Maternal, Newborn Adolescent and Child Health (RMNCAH) Unit of the Ministry of Health, used the occasion to call on the men of the region to encourage their spouses to practice early booking of pregnancies and ensure that women deliver at health facilities. According to him, these can help avert a lot of complications during childbirth and significantly improve health indicators at the family and community levels.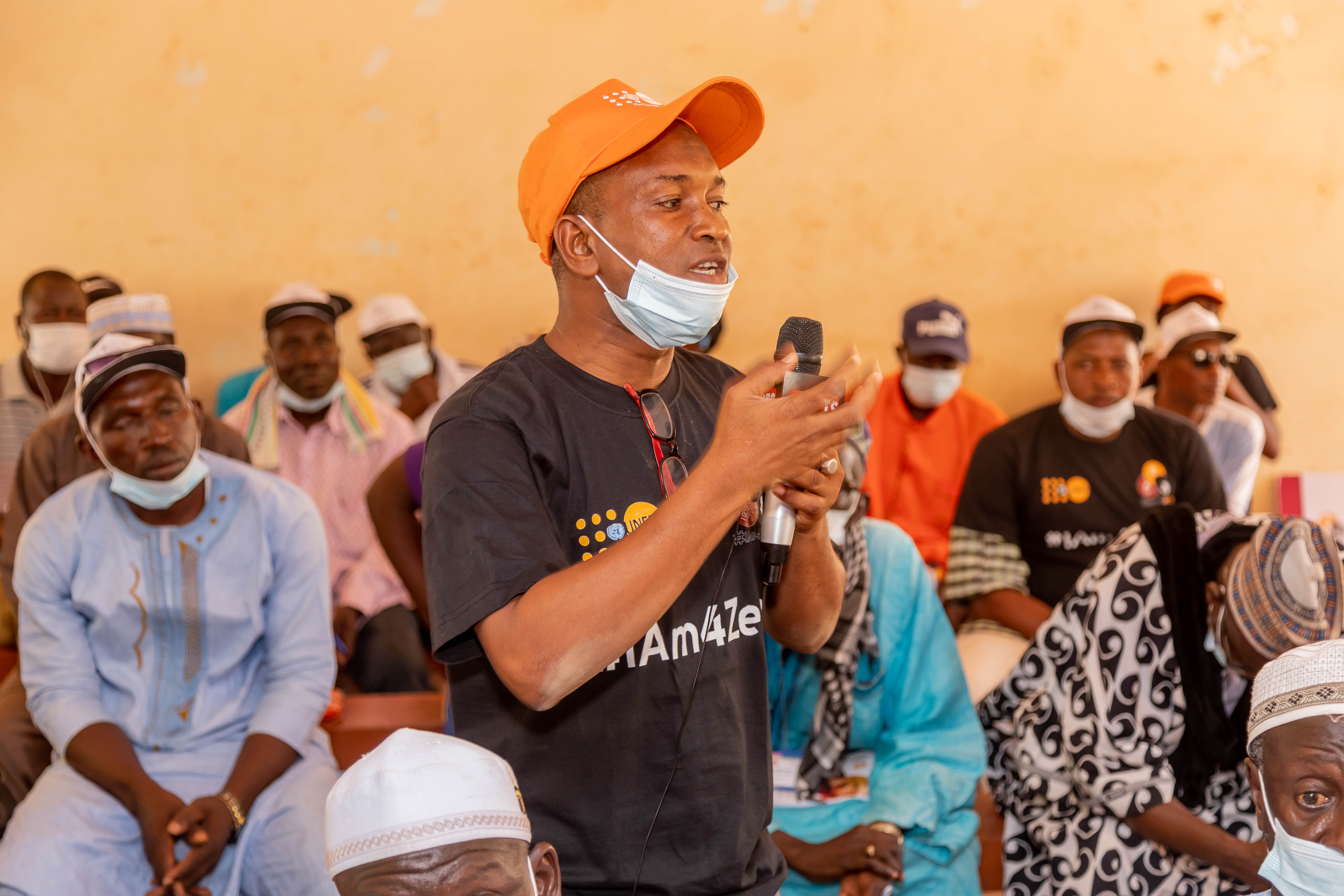 The I am for Zero campaign is part of UNFPA The Gambia's efforts to create community ownership of the agency's transformative results and ensuring awareness on the gains the country stands to make if SRH for all is guaranteed and GBV is a thing of the past.
UNFPA is supporting the Government of the Gambia and other partners to promote the realisation of these gains by investing in strengthening the health system to deliver quality care, ensuring the existence and proper coordination of an integrated Gender-Based Violence response mechanism that provides survivor-centered care and advocating for the prioritisation and inclusion of women and girls in development endeavours.
***
Media contact:
Haddy Jonga – Programme Analyst Communications, UNFPA The Gambia jonga@unfpa.org
Faith C. Ememodo – Communications Intern, UNFPA The Gambia ememodo@unfpa.org