Every child dreams of a bright life, one that brings them joy and laughter, days of fulfilled hope and realised dreams spent with a family they love and cherish. Every child longs for happy endings and happy ever-afters. This however, is not the case for the 650 million girls and women alive today who were married off before their 18th birthday. This and the 12 million girls that are married off every year, watch the world clip their dreams and cage them in a lifelong misery.
With every day that passes by and every encounter, we are reminded of the 1 in 3 girls that have been married off in The Gambia before they turned 18. This grave human rights violation, has cost the lives of over a million girls around the globe. Some are left with no education, leaving them dependant on the system and others are stuck in realities they never envisioned for themselves.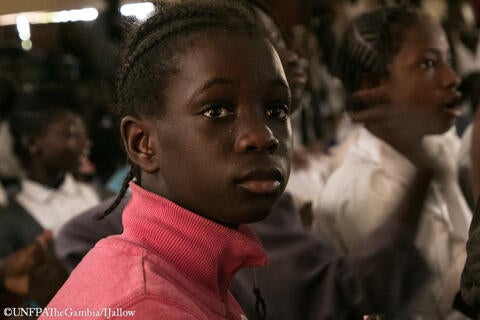 In an effort to restore the hope of girls in The Gambia, UNFPA The Gambia has spent the past decades with its partners to ensure girls have access to quality education and are empowered to make informed decisions.  
In December 2019, as part of activities marking 16 Days of Activism against Gender-Based Violence, UNFPA supported RebelVZN to screen their debut film dubbed #MÉBÉT in 5 Upper Basic schools in the Greater Banjul Area, namely Latrikunda Upper Basic School, St. John's School for The Deaf, Charles Jow Memorial Academy, St. Theresa's Upper Basic School and Khaddijatou's Centre of Excellence, targeting 100 students in each school with boys and girls inclusive.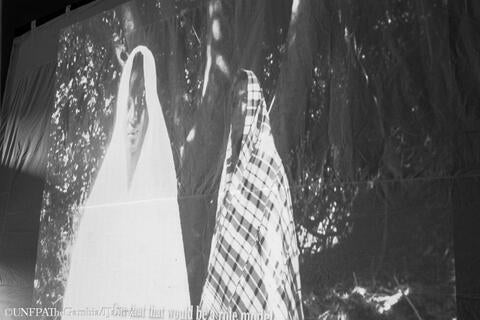 #MÉBÉT is a film that explores child marriage in a typical Gambian community, giving an insight on the journey of a girl who is forced to marry an elderly man as a result of poverty and her parents' desire to uphold longstanding traditions, which unfortunately brought her life to an abrupt end.
Following the screening of the 33-minute film in each of the schools, conversations were facilitated to steer up engagements with the students, in order to get their perspectives and listen to their opinions regarding child marriage as a phenomenon in The Gambia.
When the students were asked about the causes of child marriage, what they think about it and how they pledge to end it in their communities, Anna, a student from St. Theresa's shared that,
"poverty encourages some parents to marry off their children. When parents are poor and find it difficult to make ends meet every day, if a rich man asks for their daughter's hand in marriage, the chances are high that they will accept this offer, in order deliver themselves from their ordeal."
Fatoumatta Jallow a student of Charles Jow memorial believes that,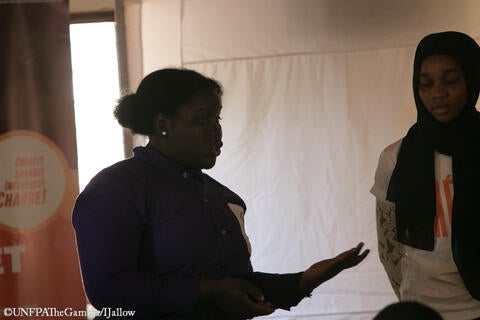 "Child marriage does not have any positive benefits and can lead to maternal mortality."
Interestingly, the boys also had strong opinions about the practices, with Muhammed Bah, a student of Charles Jow Memorial Academy stressing that,
"Child Marriage is bad and our generation has a unique opportunity to end it in a generation. I have taken up the commitment and we can all change the narratives."
Fatoumatta Bah, also a student of Charles Jow Memorial Academy, in her contribution, reminded her peers and everyone present at the screening that,
"we cannot talk about Child Marriage without talking about Female Genital Mutilation. The fight to end these ordeals and dawn a new day for women and girls in The Gambia and beyond, must run simultaneously because they are both harmful practices."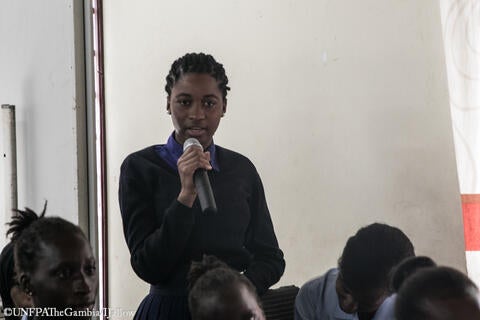 The #MÉBÉT screenings provided a unique platform to engage girls and boys to foster understanding and strike a call for reflection and actions to end child marriage and all other forms of violence affecting women and girls in The Gambia and around the world.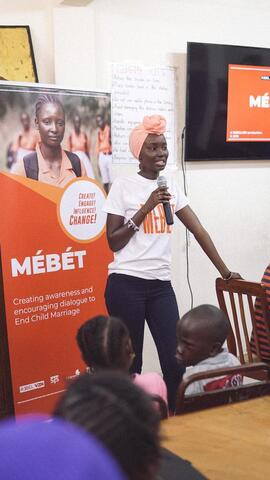 Each screening left us hopeful for what the future holds for women and girls and how their male counterparts are making conscious efforts to support the progress towards realising a world free from all forms of violence.
UNFPA The Gambia remains committed to continue supporting initiatives such as #MÉBÉT, which inspire social and behavioural change and call for common action to eradicate Gender-Based Violence and harmful practices in The Gambia and beyond.
Here is the movie's Official Trailer.