Young people have always and continue to be the heart of the work UNFPA does. As 2019 is a milestone year for UNFPA as it marks the 50th anniversary of the agency's existence and the 25th anniversary of the International Conference on Population and Development in Cairo, Egypt, we are reminded that investing in young people, is the only way to sustainable development.
This is why, on 8 August 2019, immediately upon arrival in The Gambia, UNFPA Executive Director, Dr. Natalia Kanem, accompanied by UNFPA West and Central Africa Regional Director Mr. Mabingue Ngom and his team, engaged with Gambian young people, at a Youth Bantaba, dubbed "Road to Nairobi Temperature Check with Dr. Natalia Kanem".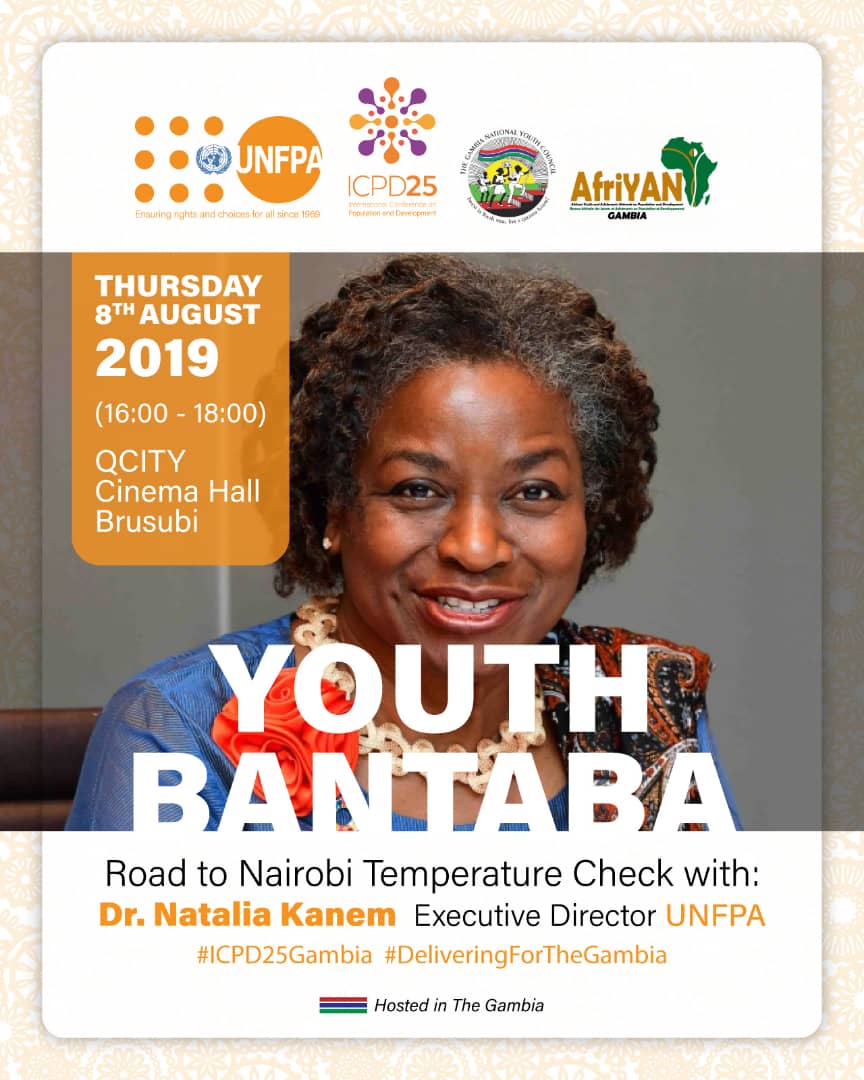 The Bantaba, an event organised by UNFPA The Gambia, the National Youth Council and AfriYAN The Gambia, brought together nearly 200 young people from various parts of the country, to discuss the ICPD agenda, the contributions of Gambian young people towards the realisation of the Programme of Action thus far, and the commitments required from the part of youth, in order to finish the unfinished business.
Hosted by a vibrant young woman, Ms. Fatou Lamin Jeng, the Bantaba was characterised by candid conversations and idea exchange, but also, created a fun environment for young people-led entertainment. The female D.J. Ms. Mariama Colley stunned the crowd with her ability to use music to entertain and engage young people like herself.
The Bantaba was also an opportunity to shed light on the vibrant work of young Gambian women entrepreneurs and provided a space for some of them to exhibit their Made in The Gambia products, with the aim of highlighting the linkages between women's economic empowerment and the realisation of their sexual and reproductive health and rights and protection from all forms of gender-based violence.
Speaking to the gathering of young people, UNFPA Executive Director Dr. Natalia Kanem highlighted that,
UNFPA stands ready to continue working with young people and other partners, to deliver this world – where every pregnancy is wanted, every child birth is safe and every young person's potential is fulfilled.
Part of the interventions made during the course of the Bantaba was an appeal from a member of the Children's National Assembly, that they be represented in the Gambian delegation to Nairobi.
At the end of the bantaba, a gift representing the country and its culture, was presented to the Executive Director, by Ms. Fatou Jeng of AfriYAN The Gambia, on behalf of young people of the country.