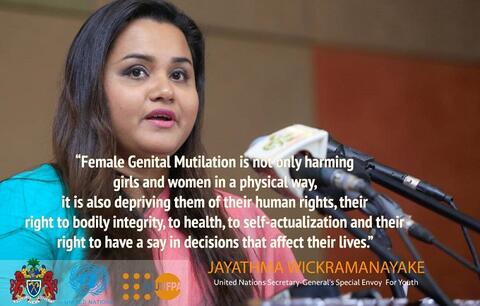 The United Nations Secretary General's Special Envoy on Youth is on a two days mission in The Gambia as part of a multi nation visit in Africa. The mission to Gambia coincided with the commemoration of the International Day on Zero Tolerance for Female Genital Mutilation. The Youth Envoy was invited to make opening remarks at an International Forum looking at developing strategies to end Female Genital Mutilation.
Female Genital Mutilation has affected more than 200 million young girls and women across the world, with a large percent of these in developing countries. If business remains as usual, the number of young girls and women who are at risk which stands at 3.4 million annual may increase significantly. Eliminating harmful practices, particularly female genital mutilation is an important agenda of the United Nations. As part of the 2030 Agenda on Sustainable Development, the global community has committed to ending harmful practices by 2030, which is called for under goal number 5, target 5.3 of the sustainable development goals.
As part of her remarks, the UN Youth Envoy called for expedited action to eliminate female genital mutilation. She observed that Female Genital Mutilation should not be "acceptable in the 21st century". The envoy further noted that as part of the broader efforts of the Governments across the world and the United Nations, ensuring we strengthen legal frameworks to facilitate efforts to eliminate this harmful practice is a critical step.
The Envoy commended the Government of the Gambia for "walking the walk and talking the talk" and taking on the challenge of ending female genital mutilation. She noted that the collaborative effort between the Gambia and UNFPA-UNICEF Joint Programme on the Elimination of Female Genital Mutilation is a "testament of the support" the United Nations is ready to provide in safeguarding the rights, health of young girls and women.
Ending her remarks, the Youth Envoy noted that "…social practice is not static and we know it can change…" and that "…together, we can end 'female genital mutilation' in the span of one generation".
As part of the ongoing mission, the UN Youth Envoy will also be meeting other youth development stakeholders in the Gambia to champion innovative work and interventions. She is also scheduled to have an audience high level officials of the Government.