Ensuring rights and choices for all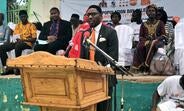 6 February 2018
Press Release- Visit of UN Youth Envoy
As part of a five (5) nation visit in Africa, the United Nations Secretary General's Special Envoy on Youth, Jayathma Wickramanayake, was on an official mission in The Gambia on 5 and 6 February 2018. The visit provided...

Welcome to this edition of the UNFPA The Gambia Quarterly Newsletter. In this issue, we...

CHOICE CAN CHANGE THE WORLD. It can rapidly improve the well-being of women and girls,...
No vacancies currently available