You are here
Country Representative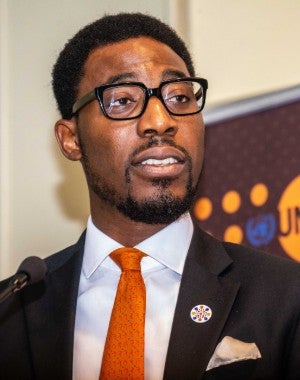 Kunle Adeniyi
Kunle Adeniyi was appointed the Country Representative of UNFPA in The Gambia, in January 2018. As the Country Representative, he oversees the daily operations of the office and ensures the execution of the Country Programme objectives through leadership, resource mobilisation and management, national capacity development, and partnership building and advocacy.
Prior to serving as the Chief of Operations, and later Country Representative of UNFPA in The Gambia, Mr Adeniyi's foray into development, started as a Senior Programme Officer (Advocacy and Communication) for Nigeria's National Agency for the Control of HIV & AIDS (NACA). He also served as Special Assistant and Head of Project Implementation Secretariat to the Nigerian Minister of Health, before returning to the NACA as the Head of Legal, Human Rights, and Government Relations. He was a Technical Lead for both the HPDP II World Bank Credit Programme and the Global Fund Round HIV Grants in Nigeria. He is concurrently a lawyer of the Nigerian Bar.
Having worked for over 12 years in the field of health and development, especially HIV/AIDS, seizing an opportunity to join an international organisation that serves women, girls, and young people, was a natural transition. More so, working with UNFPA allows him to contribute on a global scale to people in different regions and contexts.  
He holds an MBA in Leadership in Strategic Health Communication, a Bachelor of Laws (LLB) Degree and a Barrister-at-Law (BL) Diploma.